European Haemophilia Consortium (EHC)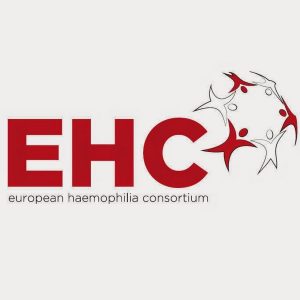 The European Haemophilia Consortium (EHC) is an international non-profit organisation that represents 45 national patients' organisations of people with rare bleeding disorders from 27 Member States of the European Union (EU) and most Member States of the Council of Europe.
The EHC represents approximately 90,000 people diagnosed with a rare bleeding condition such as haemophilia, von Willebrand Disease (VWD) and other rare bleeding disorders across Europe. However, it is estimated that many more live with an undiagnosed rare bleeding disorder.
The EHC actively supports its National Member Organisations (NMOs) at national and European levels, and also helps NMOs to engage with each other, with the objectives of:
Improving quality of life of people living with rare bleeding disorders,

Improving diagnostic and treatment facilities,

Ensuring adequate supply of – and access to – safe factor concentrates,

Promoting patients' rights and raising ethical issues,

Following and influencing developments in European health policy,

Understanding the status of haemophilia care in member countries through regular surveys,

Stimulating research in all fields related to haemophilia and related rare bleeding disorders.
The EHC draws on the knowledge of patients, healthcare professionals, the scientific community, the European institutions and the pharmaceutical industry to share expertise within Europe. The EHC also collaborates closely with other European patient organisations to ensure a strong collective voice for people with rare bleeding disorders.
Recordings taken during previous EHC conferences are available below or can be seen on the EHC YouTube channel. www.ehc.eu
2017
Inhibitor Stories captures the realities of life that people with haemophilia and inhibitors in Europe face day-to-day. Differences in access to treatment means very different outcomes for these patients. See their stories….
Produced and directed by Goran Kapetanovich for the EHC
EHC Youth Debate 2017
The annual EHC Youth Debate shines a spotlight on the future leaders of haemophilia patient advocacy, pitting youth and passion against experience and expertise in discussions on controversial topics.
The EHC Youth Debate and production of this video was made possible by an unrestricted grant from Sobi
EHC Partners
Click on the link below to read more about EHC Partners:
2016
Stefan Tasic, the participant of the EHC Youth Leadership Workshop 2016 explains why it was important for him to participate in this event and how it could be useful for other young people in the EHC community.
2014
Interview with Brian O'Mahony, Chief Executive of the Irish Haemophilia Society and the President of the European Haemophilia Consortium
2013