Haemosexual Australia: LGBTQ+ News
Haemosexual Australia
LGBTQ+ News
News items by Gay Nation & other sources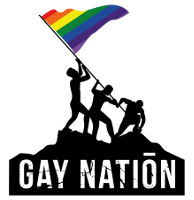 Click on the logo to sign up for news updates or visit the Gay Nation website
Australian Gay Musician Grabs Big Break As Latest Single Plays in New Netflix Series
Australian Sports Launch Transgender and Gender Diverse Guidelines
Madonna to Perform at World Pride As Sydney Mardi Gras Pushes Bid for 2023
Trustpilot Announced as Mr Gay Pride Australia Major Sponsor
Retired Australian Gold Medal Diver Matthew Mitcham Is Engaged
Andy Brennan Becomes First Male Australian Pro-Footballer To Come Out As Gay
Rugby Australia Intends To Sack Israel Folau Over Homophobic Comments
Australian Ballet Stars Screen Direct From Royal Opera House in London
Transgender soldier on fighting the Australian army's attempt to dismiss her
Transgender soldier Bridget Clinch has opened up about how she fought against the Australian army after it tried to dismiss her following her gender reassignment surgery. When Clinch – who had served in the military for over a decade – told her bosses within the Australian Defence Force that she identified as a woman, she says she was given a termination notice. "I had a medical review and they said I had to leave," she told 9news.com.au. "My fight was about getting the policy cancelled. It stated trans people have a psychiatric disorder and need to be kicked out of the military."
https://www.pinknews.co.uk/2019/03/02/transgender-soldier-australian-army/?fbclid=IwAR0WClLt8fiEr-88_tUU8_q-WcFH7ZOlDKYeiKxDz_gcs7oKGD4BGpKAF2E
Haemosexual in Sydney
I finally made it to the gorgeous #sydneyrainbowcrossing and the city is looking ready to party. 
Seeking gay and bisexual men in NSW to participate in this year's survey. Findings are used to guide HIV and sexual health programs.
If you are a gay or bisexual man who lives in Australia, we would like you to complete the Gay Community Periodic Survey. Taking part involves completing an anonymous online questionnaire about your sexual practices, drug use and health service engagement. The findings are used to guide HIV and sexual health programs in Australia. You must be at least 16 years of age to participate.
Strengthening LGBTQI Community Connection is Essential For Our Health

Sydney Mardi Gras is going glitter free

Organizers of one of Australia's largest LGBTI pride events are going green and banning single-use plastics
https://www.gaystarnews.com/article/sydney-mardi-gras-is-going-glitter-free/#gs.2agx8c
TV Presenter Joins Auckland Pride March Boycott Following Police Ban
CONGRATULATIONS: Judge Michael Kirby & Johan van Vloten.

The 79-year-old served as a High Court judge from 1996-2009 and has since been a vocal human rights advocate, especially on LGBTI rights.
He did consider marrying his partner after Australia legalized same-sex marriage in December last year, but thought it might be too late for them.
https://www.gaystarnews.com/article/former-high-court-judge-to-marry-his-partner-50-years-after-they-met/#gs.2ad4mz
Fabulously Fearless, Sydney Mardi Gras Launches 2019 Events Program
Eurovision Asia One Step Closer? – and New Zealand is Invited
Australian Defence Force Chief Heaps Praise on Courageous LGBTI Members
The Morrison government is split on whether to support Labor's call to amend discrimination law to prevent religious schools firing gay staff.
The Liberal deputy leader, Josh Frydenberg, and candidate for Wentworth Dave Sharma backed Labor's call but Scott Morrison refused to commit to extend his promise to prevent discrimination against students.
https://www.theguardian.com/australia-news/2018/oct/15/labor-to-move-to-prevent-gay-teachers-being-sacked-from-religious-schools?fbclid=IwAR2g6UEJTZds-HxRgIjxyAuXImhqbwvDm1YiP_sb_UyEDW-wsxxGlYujO4E
The report recommends new state laws prohibiting conversion therapy against minors, and prohibiting doctors, social workers and teachers from engaging in any activities that could constitute conversion therapy.
Despite this, as the nation continues to debate freedom of religion, Prime Minister Scott Morrison said the debate around gay conversion was "not an issue for him".
https://www.news.com.au/lifestyle/real-life/news-life/shocking-new-report-details-the-extent-of-gay-conversion-therapy-in-australia/news-story/e3093f83da8746375c1a816eaecdc743?fbclid=IwAR1nfE3PkL6ZPIpwzT-H8ox6gLtcssc35DZF7X3RyYyfRYK2rWjfol67aWw 
Australian Marriage Equality Catalyst for Stunning Light Installation at London Design Show
Neighbours Historic Same-Sex Wedding Snubbed From TV Week Front Cover
First Six Months of Australian Marriage Equality: 3,375 Couples Happily Married
Optus Continues to Foster Diversity in Business With GLOBE Partnership
The 'revolutionary' programs giving hope to LGBT domestic violence survivors
PHOTO: Gay male perpetrators of domestic violence may justify their behaviour by telling their partner that all men are violent by nature, experts say. (Rocco Fazzari)
When Elizabeth* first fell in love with Janie* nearly two decades ago, the future looked rosy. They built a home together and had two children.
But eight or nine years later, as the stresses piled up — the death of loved ones, the need to field the parenting opinions of their children's biological fathers — Janie began subjecting the family to lashings of verbal abuse.
Continue Reading:
http://www.abc.net.au/news/2018-07-12/lgbt-domestic-violence-revolutionary-programs/9978680
New Zealand Cake Maker Refuses To Bake Wedding Cake For Aussie Same-Sex Couple
Neighbours Creates History Filming Australia's First Same-Sex TV Wedding
'I'll Stand By You' – AFL Pride Match Launched By Saints and Swans
Jess Mauboy Opens the Eurovision Conversation in First Rehearsal on Stage at Portugal
LGBTI Sporting Body Accuses Rugby Australia Of Using Words Not Actions in Folau Furore
Australia Makes Same-Sex Adoption Legal Across Entire Nation
Apple's Mardi Gras iPhone X Commercial Celebrates Marriage Equality
Art Will Explode In Colour To Mark 40 Years Of Sydney Mardi Gras
First Transgender Woman To Play In Australian Football League
Australian Boxer Anthony Mundine Believes the Death Penalty Would "Deter" People From Being Gay
LGBTI domestic violence in Queensland under-reported, activists want more support services
PHOTO: There needs to be more appropriate and targeted support services for gay victims. (Flickr: Hibr)
Sleeping in her car to escape the violence in her home, Claire Smith (not her real name) realised her situation was desperate enough to turn to a women's shelter.
But the idea of having to explain to someone that she was running from her female partner stopped her.
Activists say domestic violence in the LGBTI community is under-reported, and there needs to be more appropriate and targeted support services for gay victims.
The Queensland Government has committed $155,000 towards training frontline workers to better respond to domestic violence callouts in the LGBTI community.
Family violence support services:
1800 Respect national helpline 1800 737 732

Women's Crisis Line 1800 811 811

Men's Referral Service 1300 766 491

Lifeline (24 hour crisis line) 131 114

Relationships Australia 1300 364 277
Continue Reading:
http://www.abc.net.au/news/2018-02-21/lgbti-domestic-violence-under-reported-queensland-police-say/9470388
Welcome to
Haemosexual Australia
LGBTQ+ News