HIV / AIDS News – 2019
HIV / AIDS News
June
HIV criminalisation cases recorded in 72 countries, including 49 in the last four years
Disproportionate number of cases in Belarus, the Czech Republic and New Zealand
HIV criminalisation continues: a global review has found that HIV-related arrests, investigations, prosecutions and convictions have ever occurred in at least 72 countries, with recent cases occurring in 49 countries, including 14 in which the law appeared to be applied for the first time.
The HIV Justice Network's review concerns cases in which either the criminal or similar law is applied to people living with HIV based on HIV-positive status, either via HIV-specific criminal statutes (29 countries), general criminal or similar laws (37 countries), or both (6 countries). Such laws typically criminalise non-disclosure of HIV status to a sexual partner, potential or perceived exposure to HIV, or transmission of HIV.
HIV criminalisation "is a pervasive illustration of how state-sponsored stigma and discrimination works against a marginalised group of people with immutable characteristics," says HIV Justice Network. "As well as being a human rights issue of global concern, HIV criminalisation is a barrier to universal access to HIV prevention, testing, treatment and care."
Between October 2015 and December 2018, at least 913 people living with HIV were arrested, prosecuted, convicted or acquitted in 49 countries. The largest numbers of cases were reported in the Russian Federation (at least 314 cases), Belarus (249), United States (158), Ukraine (29), Canada (27), Zimbabwe (16), Czech Republic (15), United Kingdom (13), France (12) and Taiwan (11).
http://www.aidsmap.com/page/3435290/
May
Latest HIV Data Shows Infections On The Rise For Overseas Born Men
Study Proves Antiretroviral Drugs Do Prevent HIV Transmission
Madonna Pays Tribute to AIDS Victims During Speech At GLAAD Awards
April
This doctor saves lives through organ transplants – and he's also a world-class dancer
Johns Hopkins surgeon Dorry Segev is revolutionizing the transplant process by allowing HIV patients to receive and donate organs. But that's just his day job.
For many years, that's where they stayed. Some died waiting for transplants; others were willing to donate organs but were told they couldn't because of their status. But thanks to Dr. Dorry Segev, the idea of an HIV patient receiving life-saving transplants has become a reality.
https://www.fromthegrapevine.com/health/john-hopkins-surgeon-dorry-segev-hiv-organ-transplants-kidneys-hope-in-action-nonprofit 
Press Release 
Monday, April 8, 2019
Today marks nine years since the Equality Act was passed, yet social care providers across London have been found to be openly breaking rules it introduced, designed to prevent discrimination in employment. A report published today by NAT (National AIDS Trust) shows continued use of unlawful pre-employment health questions amongst these employers.
Generally asking job applicants about their health and disabilities is unlawful under Section 60 of the Equality Act 2010. This prevents discrimination on the basis of health or disability. However, eight years on, NAT heard from a number of care workers encountering unlawful pre-employment questions.
NAT reviewed online job application forms of social care providers across the capital. We identified 71 social care providers in breach of Section 60. The number of unlawful health questions being asked, and the incidences of potential vetting, could be much higher as these providers were asking unlawful questions on application forms accessible on their websites.
NAT also collected case studies from people living with HIV who had experienced unlawful health questioning. At an interview one person was quizzed about her HIV, including how she acquired the virus, instead of being asked questions relevant to the role. When she challenged the questions, she was told the agency would need to inform the organisations they supply staff to of her HIV – an unnecessary breach of confidentiality. She was not offered the role.
People living with HIV are more likely to experience unemployment and poverty than the general population – currently 10% of people living with HIV are unemployed[i] (compared to 3.7% amongst the general population without disabilities).[ii] The use of pre-employment health questions contributes to the burden of unemployment and poverty experienced by people living with HIV.
Of the 71 providers known to be using unlawful health questions, NAT successfully supported 45 to update their practice. Twenty-one providers who had not responded have been referred to the Equality and Human Rights Commission – the arm's length body responsible for the enforcement of the Equality Act in England, Wales and Scotland. Five providers appear to have closed since the project began.
Deborah Gold, Chief Executive of NAT (National AIDS Trust), said: "It is extremely concerning that so much unlawful behaviour has been so easily identified, simply from a scan of provider websites, despite it being eight years since the Equality Act was introduced.
"People living with HIV and other disabilities are heavily impacted by the continued use of unlawful questions which can severely limit people's opportunities to apply for and secure a job. Our work shows an urgent need for education about equality legislation across the social care sector.
"Local authorities have a responsibility, under the Public Sector Equality Duty, to have due regard to the need to eliminate discrimination, including in services local authorities commission. We urge Directors of Adult Social Care to audit their social care providers to ensure compliance with section 60 of the Equality Act."
For more details or further comment, contact senior press officer Charlie Alderwick: charlie.alderwick@nat.org.uk 020 7814 6727
https://www.nat.org.uk/press-release/employers%E2%80%99-unlawful-vetting-job-applicant-health-conditions-and-disabilities-persists
Clusters of co-morbidities in people living with HIV show major non-HIV medical needs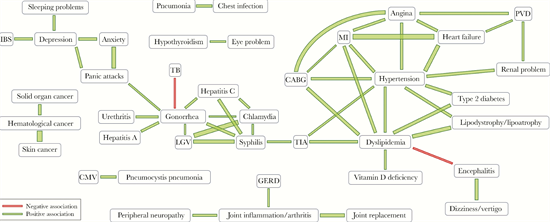 Most health problems in people living with HIV in two large cohorts can be classified in six clusters, with cardiovascular disease, metabolic problems, sexually transmitted infections and mental health conditions being the most common in Britain, Ireland and the Netherlands, according to research published in the journal Open Forum Infectious Diseases last month.
The clusters identified in the study reveal the major non-HIV medical needs of people living with HIV, especially older adults, and the needs for prevention of ill health.
Findings from the study were also presented at the Conference on Retroviruses and Opportunistic Infections (CROI) in Seattle earlier this month.
http://www.aidsmap.com/page/3470656/
Systematic analysis suggests that circumcision helps protect MSM from infection with HIV
Circumcision protects men who have sex with men (MSM) from infection with HIV, according to a systematic review and meta-analysis of studies published in The Lancet Global Health. Overall, circumcision was associated with a 23% reduction in the odds of infection with HIV.
The protective effect of circumcision was primarily seen in studies conducted in low- and middle-income settings, regions where sex between men is often highly stigmatised and where few HIV prevention resources are targeted at MSM. The authors therefore suggest that MSM could – without risk of stigma – be enrolled in existing voluntary male circumcision programmes targeted at the general population.
"MSM in countries of low and middle income could benefit from advances in cheap, safe, and convenient circumcision techniques," comment the authors. "Because circumcision as an HIV prevention measure targets all men regardless of sexual orientation, MSM in countries of low and middle income seeking circumcision would most likely experience less stigma when accessing this service."
There was also evidence that circumcision provided MSM with protection against herpes simplex virus (HSV), and HIV-positive men had a reduced risk of penile human papillomavirus (HPV).
http://www.aidsmap.com/page/3471962/
March
The Porn Industry Is Rethinking How It Works With HIV Positive Performers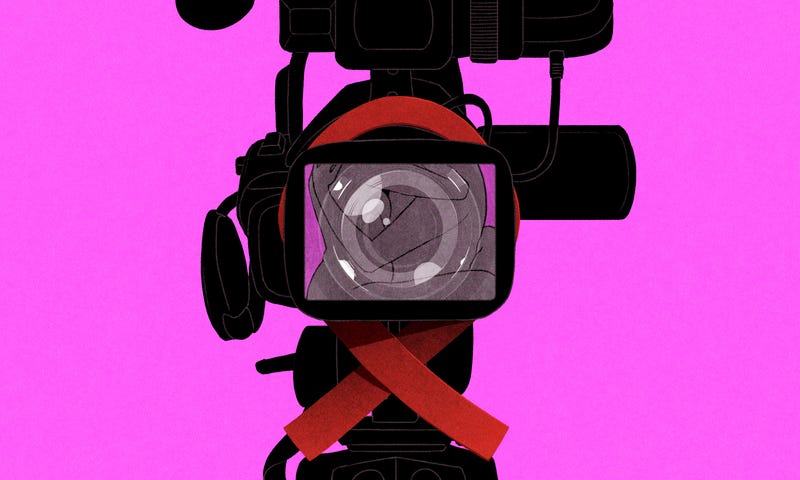 Image: Angelica Alzona/GMG
In late January, tucked away in a fluorescent-lit conference room at the Hard Rock Hotel in Las Vegas, dozens of porn industry insiders gathered for a panel on the latest in HIV research. In the neighboring exhibit halls, the annual Adult Entertainment Expo was underway, and fans lined up for autographs from performers and poked at the surreal flesh of sex dolls. The expo's seminars are always a sober affair compared to the raucous exhibit halls, where music thumps and watered-down drinks are poured, and this panel is no exception.
But the panel became a lightning rod for industry debates around HIV, sex worker rights, and homophobia because it raised the possibility of introducing a testing system that meets the needs of performers with HIV. Currently, the industry's centralized opt-in testing system, Performer Availability Screening Services (PASS), tests performers every 14 days for sexually transmitted infections (STIs). Anyone who tests HIV positive is permanently barred from the system.
https://jezebel.com/the-porn-industry-is-rethinking-how-it-works-with-hiv-p-1833068780
Hepatic steatosis common in young adults with life-long HIV
Thirty-three percent of young adults with HIV since birth or early childhood have hepatic steatosis, a prevalence comparable to older adults with HIV and "significantly higher" than HIV-negative controls, according to research published in The Journal of Infectious Diseases
"In this cross-sectional study of young adults with life-long HIV, we identified that one-third of the cohort had evidence of fatty liver using noninvasive transient elastography techniques," Colleen Hadigan, MD, MPH, a staff clinician in the laboratory of immunoregulation at the National Institute of Allergy and Infectious Diseases, told Infectious Disease News.
https://www.healio.com/infectious-disease/hiv-aids/news/online/%7B6185e2f8-564d-4f2c-a481-1864a7860ec4%7D/hepatic-steatosis-common-in-young-adults-with-life-long-hiv
Effect of Depression, Lifestyle on Cognitive Function in PLWHIV
Effect of Depression, Lifestyle on Cognitive Function in PLWHIV
The impact of older antiretrovirals on fat redistribution and cardiovascular risk factors may be irreversible
Fat redistribution in people with HIV who have ever taken thymidine analogues and/or didanosine (TA/ddI) can persist through time, while increasing cardiovascular risk factors, according to a Danish study published in the 15 March issue of AIDS.
More specifically, the redistribution of adipose tissue (fat) as visceral adipose tissue (VAT) rather than subcutaneous adipose tissue (SAT) is still observed in people living with HIV who once took TA/ddI, even though they discontinued these drugs many years ago.
In addition, these individuals have an excess risk of hypertension, high levels of total cholesterol and low HDL ('good cholesterol'), even years after treatment discontinuation. This most probably results from VAT accumulation.
Thymidine analogues (zidovudine, also known as AZT, and stavudine, also known as d4T) are antiretrovirals from the nucleoside reverse transcriptase inhibitors (NRTIs) family. Didanosine (ddI) is also an NRTI. These older antiretrovirals are now rarely prescribed.
http://www.aidsmap.com/page/3468868/
This is the intimate and shocking account by one of the men who was abused by Daryll Rowe – the first ever person in the UK to be convicted after deliberately infecting men with HIV.
You can watch the full documentary on the BBC Three iPlayer page here:
https://www.bbc.co.uk/iplayer/episode/p071xjg7/the-man-who-used-hiv-as-a-weapon
This powerful documentary tells the intimate and shocking accounts of five men who were abused by Daryll Rowe – the first ever person in the UK to be convicted after deliberately infecting men with HIV. The men in this film have waived their anonymity to speak publicly for the first time. Some have never told their families. And all have the same burning question: Why did he do it? 
These multiple perspectives build a gripping account of how, over 18 months, Daryll Rowe set out on a dangerous, nationwide campaign to trick men into having unprotected sex with him. We hear first-hand how he would lie about his HIV status, sabotage condoms and later send abusive text messages taunting them with the virus: 'You have HIV. Lol.' A total of 24 men reported him to the police, but nobody knows how many others Daryll Rowe slept with. 
Through candid and revealing testimonies, we not only explore the devastating effect of psychological abuse, but also the resilience of ordinary people. Alongside the men, we follow Daryll Rowe's foster mother, Jacqui, as she tries to come to terms with – and to understand – her son's crimes. But there is only one person who really has the answer: Daryll Rowe himself. Are we any closer to finding out why he did it? In a tense final showdown we speak to him in an attempt to understand and provide answers for those affected.
February
Federal judge temporarily blocks military from forcing out HIV-positive airmen
https://www.wctrib.com/news/government-and-politics/4571860-federal-judge-temporarily-blocks-military-forcing-out-hiv

Fury at HIV data leak in conservative Singapore
Rico has lived with HIV for almost a decade, confiding in only a small number of people in socially conservative Singapore, fearful of the reaction. Last month, he got a phone call saying information about his condition had been published online.
Rico was one of 14,200 people whose HIV status, name and address were dumped on the internet by an American man who is believed to have obtained the confidential data from his partner — a senior Singaporean doctor.
"The LGBT community is angry and frustrated with the entire ordeal," said Rico, who did not want to be identified by his full name.
https://news.abs-cbn.com/overseas/02/10/19/fury-at-hiv-data-leak-in-conservative-singapore
January
How stigma prevents Delhi's gay men from getting tested for HIV
Societal pressures, stigma and 'a lot of shame' push gay sex underground, meaning NGOs must come up with innovative ways to reach members of at-risk community
When the news broke that India's Supreme Court had struck down a colonial-era law making gay sex illegal, the reaction in Delhi was jubilant, with public celebrations erupting across the capital.
Fast forward four months, and HIV/Aids charities are finding the old stigma and prejudice against members of the LGBT+ community are stubbornly refusing to go away.
Although attitudes towards gay relationships have softened in the past two decades, a 2016 survey found that even among young people more than 60 per cent of respondents believed homosexuality was wrong.
That translates to "a lot of shame" among men who have sex with men (MSM), says Abhina Aher from the India HIV/Aids Alliance, a leading charity supported by the Elton John Aids Foundation (EJAF).
The Alliance has identified MSM as a key at-risk group being left behind in the country's response to HIV, threatening India's goal of meeting the UN's "90-90-90" pledge by 2020. HIV prevalence rates are around 16 times higher in this group compared to the general public.
Intense societal pressure to get married at a young age makes the matter worse, Ms Aher says. Alliance estimates that 60 per cent of their MSM clients also have wives, making it very difficult to get them to open up about unsafe sex practices.
Continue Reading & Watch Video:
https://www.independent.co.uk/aidsfree/dehli-gay-men-hiv-testing-aidsfree-india-lgbt-a8720721.html
You can read more news items and information on HIV/AIDS here: