Pride in Brighton & Hove 2017

Hello Brighton

            
Pride in Brighton & Hove News
Top Stories
Happy Pride Brighton & Hove 2017

from Haemosexual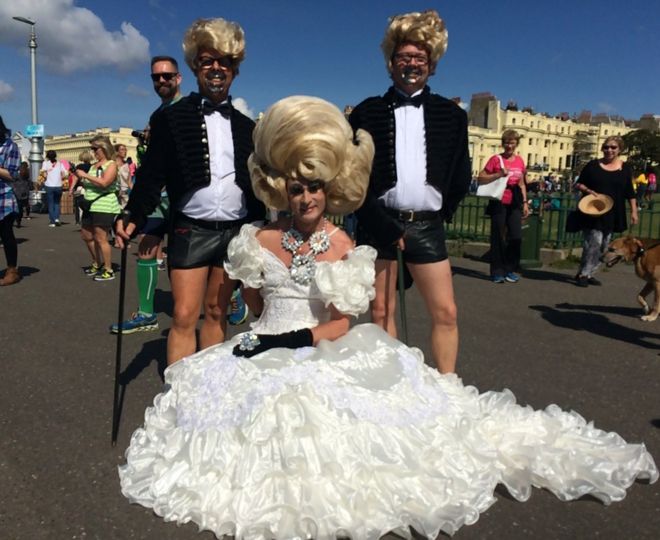 Brighton Pride: Crowds gather for celebrations
About 300,000 people are gathering in Brighton for the annual Pride event.
The Pet Shop Boys will headline the event at Preston Park following the parade through the city, which set off at 11:00 BST.
Other acts appearing at the ticketed event at the end of the route include Years & Years, Louisa Johnson and David Morales.
The event is marking 50 years since the partial decriminalisation of homosexuality in England and Wales.
http://www.bbc.co.uk/news/uk-england-sussex-40836798
Brighton Pride 2017 will be extra special
POP legend Neil Tennant has said this year's Brighton Pride will be particularly special.
The singer said he thought Pride will stand out as the 2017 celebrations mark the 50th anniversary of the partial decriminalisation of homosexuality in the UK.
Tennant said after American President Donald Trump's discrimination against LGBTQ communities – most recently of which, banning transgender people from the army – Prides everywhere will show added defiance.
He told The Argus: "Yes [there will be more defiance] and also because violent homophobia is still practised and even encouraged around much of the world. Nothing can be taken for granted."
The Pet Shop Boys lead singer will be one of around 200,000 involved in this year's Pride.
Tennant added: "The fact that it's 50 years since the original decriminalising legislation in England and Wales passed into law makes is also a special anniversary worth marking."
Paul Kemp, managing director of the Brighton Pride Community Interest Company, echoes the view, saying the message of peace and love needs to continue to spread.
He feels that although the UK has become significantly more accepting of homosexuality since the legalisation 50 years ago, other countries need to follow suit.
Read More:
http://www.theargus.co.uk/news/15452992.Brighton_Pride_2017_will_be_extra_special/
Brighton Pride set to be the biggest and best yet, say organisers
THIS year's Brighton Pride looks set to highlight how far the event has come since starting in 1973, and could be the biggest yet.
Opening the 2017 Summer of Love celebrations will be the Tigers parachute display team, of the Princess of Wales's Royal Regiment.
It will be the first time the military has been involved in the city's showpiece.
They will deliver the Pride rainbow flag to the head of the parade at about 11am on Saturday, kicking off the highly-anticipated weekend in a special year that marks the 50th anniversary of the partial decriminalisation of homosexuality.
Corporal Millerick, the Tigers' team leader, said: "The event is a big one for us, especially as one of our members is from the LGBT community."
Paul Kemp, managing director of Brighton Pride Community Interest Company, said: "For the 50th anniversary of the partial decriminalisation of homosexuality we are thrilled to have a military involvement, highlighting just how far we have come in a relatively short time."
Around 200,000 people are expected to be taking part or enjoying the spectacle.
Read More:
http://www.theargus.co.uk/news/15450931.Brighton_Pride_set_to_be_the_biggest_and_best_yet__say_organisers/
Brighton Pride: Everything you need to know about pride in Brighton
Brighton Pride has been a fixture in the city's calendar since 1973 and this year is set to be bigger and better with events spread across the first weekend in August from Friday 4th to Sunday 6th.
It launches with the parade from Hove Lawns to Preston Park, where the Pride Festival takes place and this year is headlined by The Pet Shop Boys and Years and Years on the main stage.
Pride attracts an estimated 300,000 to the Brighton and Hove over the weekend, and with the festival getting bigger every year, the organisers are getting ahead of the curve.
Along the parade route will be market stalls and live street events to dive into.
Brighton Pride Festival is a celebration of our city's diverse community, with visitors from across the globe enjoying its spectacular celebrations.
When should I arrive and what time does it start?
Brighton Pride runs from Friday August 4th until Sunday August 6th with events happening all over the city, all weekend. The Pride Festival will be held in Preston Park from 12:30pm on August 5th. Tickets can be found on the Pride website, although hurry because they are selling out quickly.
The Pride parade will start on August 5th at 11am in Hove Lawns, named the Diversity Carnival. The carnival will fill the streets of Brighton and Hove with love, light and colour, to celebrate fifty years on from the decriminalisation of homosexuality, proving, Love wins.
The Pride Village Party sees St James's Street and Marine Parade closed to traffic from Saturday 6pm until midnight and on Sunday between 3pm and 9pm.
What's the theme?
The theme this year is Summer of Love.
Who will be performing?
At Preston Park the main acts will be The Petshop Boys and Years and Years who will headline the festival in Preston Park with supporting acts such as: Louisa Johnson, Becky Hill and Fickle Friends.
In the Pride Pleasure Garden at Victoria Gardens artists such as Lucy Spraggen, Frankie Furlow and DJ Sean Quinn will grace the stage.
What else will be happening?
Brighton Palace Pier will be holding the Pride fireworks display on Sunday August 6th at 9:30pm.
The Old Steine and Victoria Gardens will be transformed into a unique Pride experience for three days and nights of cabaret, live music and saucy wonders.
In Preston Park you will find: The Main Stage, The Wild Fruit Dance Tent, The Legends Cabaret Tent, Bears and Men's Dance tent and many more like this to choose from. 
On the Friday will be the S Club Party opening proceedings with the official pride warm up party. Join the Sultan-Of-Smut and Master-Of-Bates Boogaloo Stu for an evening of festive frivolity and surreal shenanigans. Then Saturday will see legendary 80s mega club night It Is Still 1985 and the universally acclaimed self declared chaos of alt.drag superstars Sink The Pink's Club Tropicana Takeover deliver must-do clubbing and cabaret.
Where does the Brighton Pride Parade start?
The Parade will start at Hove Lawns at 11am and then end in Preston Park, passing all the major attractions on the way.
How much are the tickets to the Pride Festival at Preston Park?
Tickets are £27.50 per person and you will be given a wristband for the day to guarantee entry to all attractions. Once third release tickets have run out the fourth release will go out to £30. You will need to buy a separate ticket for Pride Village Party tickets starting at £15 but will rise to £20 at the weekend. You will be able to buy tickets online or alternatively you can buy them from the Pride Box Office and Shop on the day, located at Victoria Gardens.
Where can I stay?
Brighton Pride have partnered up with Hilton Metropole as their official hotel sponsor. Alternatively there are many B&B's around Brighton. Pride also have a campsite, for £15 a night, per person. The campsite will be open from 4pm on Friday August 4th at Waterhall Road, Brighton. There will also be a bus service to take you too and from the events.
How do I get there?
Rail Unions have suspended their strikes for this weekend. Access is easy alighting the train at either Hove, Brighton or Preston Park. There is also a variety of buses that will take you in either direction. Please check Sunday train times from where you will be travelling from, to make sure that you have plenty of time. For suggested train times from all UK stations, please visit nationalrail.co.uk.
Read More:
http://www.theargus.co.uk/news/15446307.Everything_you_need_to_know_about_Brighton_Pride_2017/
This year Brighton'€™s Pride is set to be one of the biggest and best yet and Sussex Police want to reassure everyone attending events in the city, as well as local residents and businesses, that we are working with organisers and partners to make sure it remains safe and welcoming for all.
Assistant Chief Constable Laurence Taylor said: "€œMonths of preparation have taken place in the lead up to Pride and as in previous years, public safety is our main priority. We are taking all reasonable steps to ensure the wellbeing of those attending as well as minimising disruption to those going about their daily business.
"€œSimilarly to last year we will have a number of armed officers working across the city over the weekend and we will again be making use of the National Barrier Asset.
"As always, we ask that the public demonstrates a certain level of personal responsibility including things like taking care of belongings, following personal safety advice and flagging any issues or suspicious behaviour to event staff or police.
"With Pride organisers, we want to promote an inclusive and enjoyable atmosphere for all. We look forward to seeing you there and wish you a fun Pride 2017."
Paul Kemp, Managing Director of Brighton Pride CIC, added: "As we celebrate the milestone of the 50th anniversary of the partial decriminaliastion of homosexuality in England and Wales, this year's Pride is all set to be one of the best ever.
"Extensive planning takes place year-round between Brighton Pride CIC and our partners at Sussex Police, Brighton & Hove City Council, ESFRS and SeaCamb. Our detailed event management plans are continuously updated to reflect all relevant advice and legislation and reviewed by all parties and a citywide Safety Advisory Group.
"Pride would like to thank our colleagues at Sussex Police and all our statutory partners for their support to Pride in our City and, as always, ask locals and visitors to Pride to be vigilant and look out for each other.
"Have an amazing Pride."
For further information on B&H Pride 2017 please visit: 
http://www.brighton-pride.org/pride-festival/
Pet Shop Boys To Headline Brighton Pride Summer Of Love Festival
Brighton & Hove Pride are proud to announce that the legendary Pet Shop Boys are to headline the Pride Summer Of Love Festival in Preston Park on Saturday 5th August 2017 in their first Pride performance in 20 years.